January 28th [CST], 1 DAY Full VR Ticket -SANRIO Virtual Festival 2023 in Sanrio Puroland- (Time-shift version)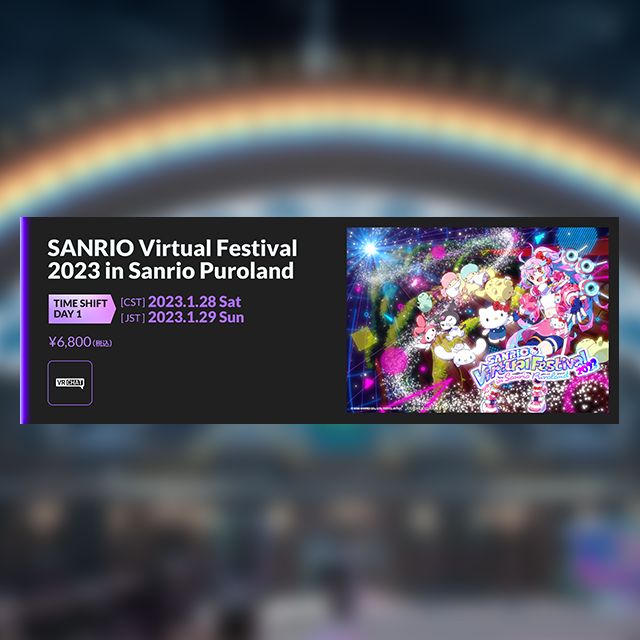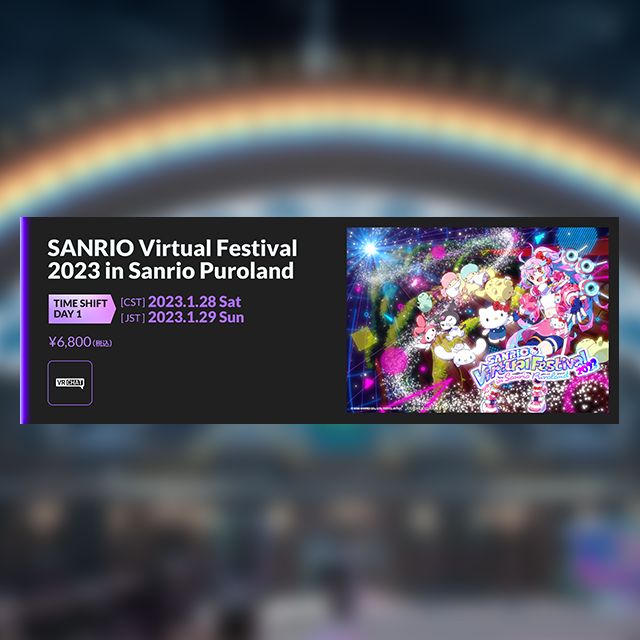 SANRIO Virtual Fes in Sanrio Puroland
January 28th [CST], 1 DAY Full VR Ticket -SANRIO Virtual Festival 2023 in Sanrio Puroland- (Time-shift version)
¥6,800(Tax Included)
Release date:
2023/01/23
End of sales:
2023/01/25
Share
Description of item
This page is dedicated to Time-shift version Tickets!  January 28th [CST], 1 DAY Full VR Ticket -SANRIO Virtual Festival 2023 in Sanrio Puroland- (Time-shift version) The time-shifted VR live performances of SANRIO Virtual Festival 2023 will be performed again on Saturday, January 28, 2023 and Sunday, January 29, 2023 [CST]. Please read the following notes carefully before purchasing. Sales period: Monday, January 23, 2023 0:00AM - Wednesday, January 25, 2023 11:59PM (JST) *Parade is available for free. Time-shifted tickets are available via VRChat. Unlike regular tickets (for the January 21 and 22 event), the SPWN version of the ticket will not be accompanied by a ticket. There will also be no archived streaming by SPWN. Those who have already purchased tickets for January 21 and 22 do not need to purchase another ticket. Those who purchased a 1DAY ticket can experience the Time-shift of the corresponding day. Those who purchased a 2DAYS ticket can experience both day's Time-shifts. [DAY 1 (Alternative time)] January 28th (Sat) 7PM ~ (CST) [DAY 2 (Alternative time)] January 29th (Sun)7PM ~ (CST) ◇ About "Time-shift" (VR Alternative time)◇ In the Time-shift, you can experience the artists' performances in VRChat on January 21st and 22nd. Please enjoy the Alternative time if you were not able to make it in time or if you missed it. * Time-shift is not available for ALT3 (B5). * The Alternative time performances are the same as the ones held on the 21st / 22nd. The Puro Village parade will also be staged again. ◆Upcoming Events◆ --<Schedule>-- Saturday, January 28, 2023 7PM-0AM (Doors open at 5PM)(CST) *Times are subject to change. The date and time of the event you can attend differs depending on the ticket type. Location Virtual Sanrio Puroland This event is a music festival held in the virtual space of VRChat. For other ticket types, please visit the event website here.
https://v-fes.sanrio.co.jp/en
[Participation In SANRIO] In order to participate in SANRIO Virtual Festival, you need to change into the exclusive avatar "Mochipoly". For more information about Mochipoly, click here!
https://v-fes.sanrio.co.jp/beginners#second
For more information about Mochipoly, please visit
https://xr-marketplace.com/en/makeavatar/play
The size of Mochipoly can be set to a maximum of 120cm. (In the app, the gauge can be adjusted up to 100.)
===◇VPrecautions when entering the VRChat venue◇=== *Please be sure to read the following.
  ・Please note that you must be logged in to your XMarket account and the VRchat account that is associated with your purchased ticket, in order to enter the paid floor. ・If you see a "?" is displayed in the upper right corner of the screen after sending the INVITE ME, you are not logged in. Please log in and try again. ・For more information on how to enter VRChat, please click here. ▶
https://v-fes.sanrio.co.jp/en/vrc
・Please change into "Mochipoly" before entering B2/B3, as a dress code is required (free of charge). Mochipoly can be customized with the MakeAvatar application. You can also change into your chosen "Mochipoly" avatar in B1. *Please set up in advance before the live event. ・For B2/B3, please make sure to enter the venue 10 minutes before each artist's performance. ・Please do not change your Display name after the ticket sales end date (Wednesday, January 25, 11:59PM). ・Please note that inquiries made on and January 25, 11:59PM of the event may result in the loss of admission to the event. ・In B2/B3, please refrain from using tools that let your avatar float, such as the Space Drag feature in VR Advanced Settings or PlayspaceMover. ・Photography is allowed on all floors, but please note that there are areas (B2, B3) where video recording is prohibited. For details, please check the UI on each floor. ▼ Please refer to the official website for other precautions. ▼
https://v-fes.sanrio.co.jp/en
◆Precautions◆ Before purchasing tickets, please read the precautions listed here carefully and be sure to check that you have the appropriate internet environment and recommended environment for viewing the live streaming. This event is an online event that will be held over 2 DAYS. Please make sure that you have the correct ticket for the event. No cancellations or refunds will be accepted after purchase. Please understand this in advance. Please note that the performance time may change depending on the progress of the event. Please be aware that the viewing quality may be affected by the usage conditions and network congestion. The organizer will not be held responsible for any malfunctions caused by your Internet environment or viewing environment. The organizer will do its best to prepare for the event with the best possible equipment and connection, but due to the nature of the event, there is a possibility of unforeseen interruptions or video disruptions. In such cases, the ticket price will not be refunded. You can join or leave the room during the event. Please attend at your convenience. If the organizer has no choice but to cancel the event for any reason, we will announce it on the official Twitter page of the event. Please refrain from participating in the event with avatars that do not have the permission of the authors of the original works. Please refrain from offensive, slanderous, or otherwise disruptive behavior toward the event participants or performers, whether before or after the event. The organizer reserves the right to ask any visitor who is found to be causing inconvenience to other visitors to leave the venue. The organizer reserves the right to change these precautions at any time without notice. Your use of the event shall be deemed to constitute your agreement to such changes in these precautions. Video recording is prohibited on the B2/B3 floor. VRChat may take some time for loading of the performance. Please be sure to enter B2/B3 10 minutes before each artist's performance. Due to system reasons, loading time will start after each artist's show. The detailed distribution schedule will be announced on the official Twitter page of the event. Event Official Twitter
https://mobile.twitter.com/sanrio_vfes
◆Viewing Environment About VRChat A highly immersive experience can be had by connecting a head-mounted display and a gaming PC to this event. By diving into the virtual space, you can freely move around various floors and enjoy the live performance of artists right in front of you. The floors where live performances are held are not normally supported by the Quest version. VRChat official website:
https://hello.vrchat.com/
*How to enter the live venue on the day of the event will be announced later by e-mail. ◆Minimum system requirements to participate in this event via VRChat OS: Windows 8.1, Windows 10 Processor: Intel® i7 / AMD FX 8350 equivalent or greater Memory: 16 GB RAM Graphics: NVIDIA GeForce® GTX 970 / AMD Radeon™ R9 290 equivalent or greater DirectX: Version 11 Network: Broadband Internet connection Internet Speed: 30 Mbps downstream Storage: 3 GB available
Sales area
Worldwide (excluding some areas)
Attached items
■Main item
January 28th [CST], 1 DAY Full VR Ticket -SANRIO Virtual Festival 2023 in Sanrio Puroland- (Time-shift version)
■Item list
-SANRIO Virtual Festival 2023 in Sanrio Puroland- VRChat admission ticket (January 28st [CST]) 
ⓒ 2022 SANRIO CO., LTD. TOKYO, JAPAN /©HoloModels®︎/©Gugenka®
Loading...