"Niigata Fireworks Festival : Hatsune Miku YOZORA PROGRAM" Individual Sponsorship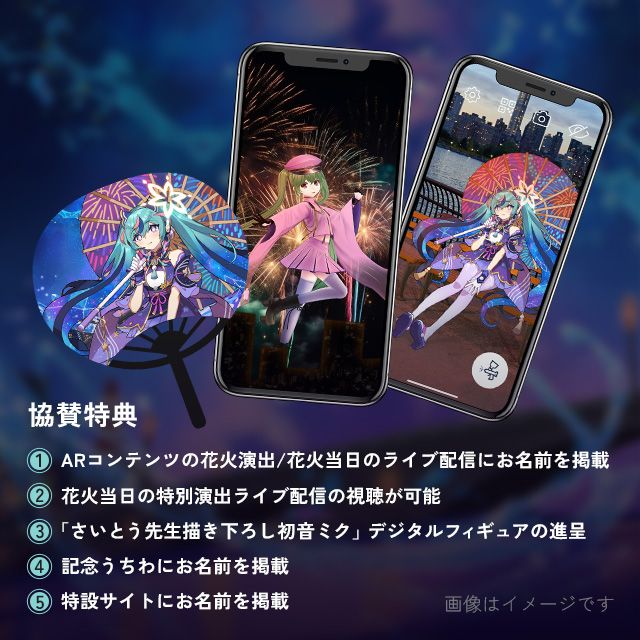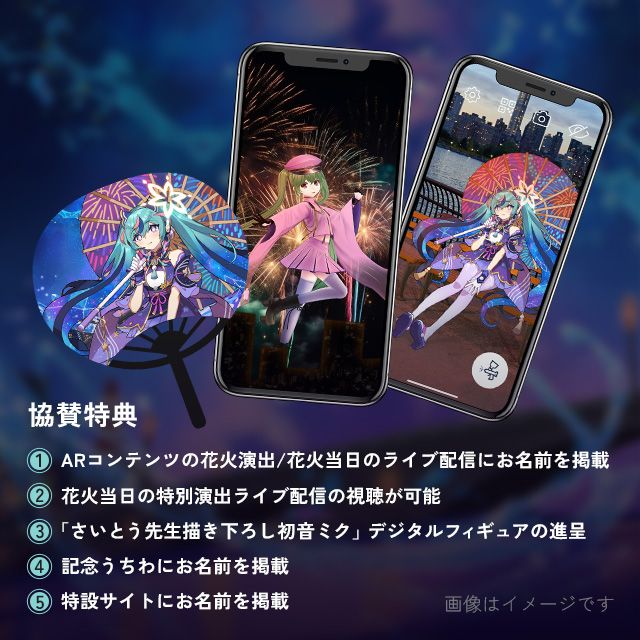 Description of item
This is an individual sponsorship page for "Niigata Fireworks Festival : Hatsune Miku YOZORA PROGRAM". There are a variety of special offers available to our sponsored customers.
Sales period:12:00, June 16, 2023 - 12:00, July 20, 2023 (JST)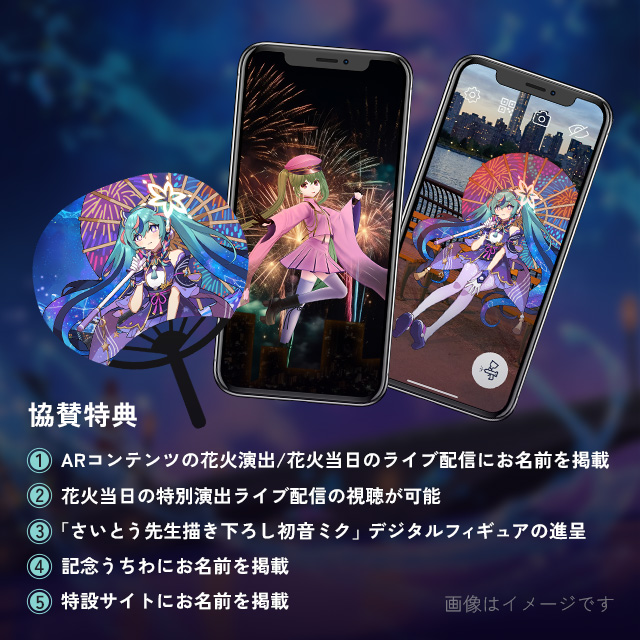 ====<The special offers for Individual Sponsorships>====
◆Your name will be featured in the AR content fireworks production and the live streaming on the day of the fireworks. ◆You can watch a live streaming featuring Hatsune Miku's special performance. ◆You can get the "Digital figure of Hatsune Miku-YOZORA PROGRAM Naoki Saito ver. " ! *Digital figures will be given away in early August. For more information of HoloModels, click here▷
https://xr-marketplace.com/en/holomodels
◆Your name of choice will be displayed on a commemorative Uchiwa fan *You can receive Uchiwa fan only at the official goods sales venue of the Niigata Festival. Uchiwa fans will not be delivered. ◆Your name of choice will be displayed on the special website (publication destination:
https://yozora39.com
) ====<The process of registering the sponsorship to receive the special offers>====
1. Become a sponsor from this page 2. After the deadline for accepting sponsorships, we will send the required information form to the email address you registered with XMarket. Please complete the form by July 26th. *Please note that you will not be able to receive the spacial offers if you do not enter by the deadline (23:59, July 26th, 2023). 3.Please make sure to check your XMarket email address regularly, as we will be sending information on an ongoing basis, such as the URL for the live streaming and how to redeem your digital figure.
==================
◆Information about your display name◆
・Your name will be displayed larger compared to others, depending on the number sponsors you will receive. ・If you support 4 units, the font size will be maximized. The size does not change from 5 units or more. ・Your name can be chosen from any character up to 10 characters.Special characters cannot be used.If your name includes symbols, pictograms, or other characters that cannot be used, we may ask you to change it. ・Inappropriate names will not be displayed. ・The number of times a person can be listed is limited to one time per person. ・You cannot apply for more than 9 units in one sponsorship. ≪Management of Personal Information≫ Personal information will only be used for identity verification, event communication, display your name, participation guidance, and statistical information that does not identify an individual. Personal information will not be provided to a third party without the customer's consent, except when provided to a contractor to the extent necessary for outsourcing work related to this event.
◆Live-streaming on the day of the fireworks◆
Date: August 6, 2023(JST) Live-streaming start time: 19:20(JST)~ *The time may change depending on the operational situation and weather conditions. This live streaming will be available to the public about one week after the event for free.
≪Precautions≫
Please read the following notes carefully before sponsoring. ・No refunds will be provided if the event is postponed or canceled due to weather conditions or if the content is changed. If the event is canceled, only digital figures will be distributed. ・Be sure to confirm that you have the appropriate internet environment to watch the live streaming. ・We do not accept cancellations or refunds after service has been provided. ・The performance time may change depending on the progress of the day. ・Viewing quality may be affected by usage conditions and network congestion. Please note that the organizer cannot be held responsible for any malfunctions caused by your Internet environment or viewing environment. ・Packet communication fees and other costs incurred when viewing the live stream are to be borne by the customer. ・The ticket price will not be refunded even if unforeseen stoppages or video disruptions occur. ・You can join or leave the event at any time. ・If the organizer has no choice but to cancel the event, it will be announced on [Gugenka's official Twitter]. ・The organizer reserves the right to change these precautions at any time and without notice. By watching the live streaming or participating in the event, you will be deemed to have agreed to any changes to these precautions. ・After the event, the videos will be distributed as archives. ◆◇What is Niigata Fireworks Festival: Hatsune Miku YOZORA PROGRAM?◇◆ Niigata Festival will be held on August 4th~6th. This year, Hatsune Miku will collaborate with the fireworks of Niigata Festival under the theme of "Night Sky"! In addition to this, you can also check out other programs. Website:
https://yozora39.com
Sales area
Worldwide (excluding some areas)
Attached items
■Main item
"Niigata Fireworks Festival : Hatsune Miku YOZORA PROGRAM" Individual Sponsorship
■Item list
Hatsune Miku - YOZORA PROGRAM Naoki Saito ver. 
Umbrella (Hatsune Miku - Yozora Program, Naoki Saito Ver.) 
CK Hatsune Miku - YOZORA PROGRAM Naoki Saito ver. 
Animated spray "Senbonzakura"(Hatsune Miku-YOZORA PROGRAM Naoki Saito ver.) 
Art by さいとうなおき /© Crypton Future Media, INC. www.piapro.net
Loading...